These Pet Parent-Favorite Healing Balms Will Save Your Dog's Paws
Say bye to cracked, chapped feet 🐾
We independently pick all the products we recommend because we love them and think you will too. If you buy a product from a link on our site, we may earn a commission.
Just like when we get chapped lips and hands, our dogs can experience dry, cracked paws. Rough pads can not only be irritatingly itchy for your pup, but they can actually be painful to walk on.
Luckily, there are a variety of different dog paw balms, butters and waxes online that soothe, nourish and create an invisible barrier between your dog's pads and the ground, protecting them and keeping them soft and moisturized. And as proven by the reviews, dog paw balms have been life-changing for so many pups (and their parents!).
Here are some of the best.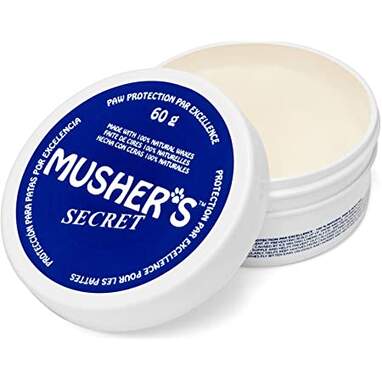 Over 13,000 dog parents swear by Musher's Secret dog paw wax (including many Dodo dog parents), which provides a nourishing, protective layer over your dog's dry and cracked pads using 100 percent food-safe waxes and oils, like beeswax, carnauba and candelilla wax, and white and vegetable oils. Plus, Musher's Secret is free from gluten, soy and nuts, so it's allergy-friendly, and is completely non-GMO. It's easy to apply, soaks in to deeply moisturize and helps keep paws crack-free.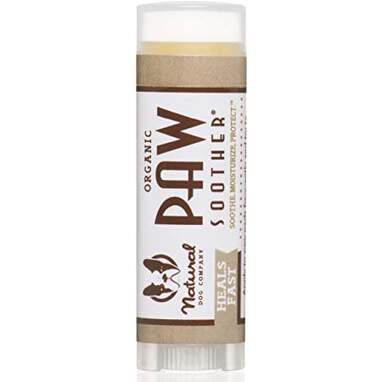 "Literally the morning after I applied the product, [my dog's paws] were significantly better," one five-star reviewer wrote about Natural Dog Company's paw soother. "I keep applying it every night and it's been five days since then and I still see improvement every day." This paw balm contains vitamin E, mango butter, rice bran oil, sunflower oil and carnauba wax, which work together to soothe discomfort and treat irritation.
The coconut oil in Pet Head's natural paw butter nourishes and softens dry, rough pads, while the oatmeal extract works as an anti-inflammatory. This creamy dog paw balm also includes shea butter, oatmeal, mango, vitamins E and F, olive oil and aloe vera — you don't need to apply much to have your pup reap the rewards of this ultra-moisturizing dog paw balm.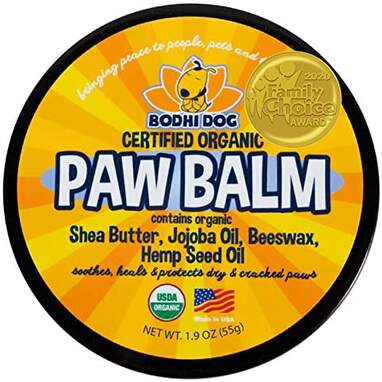 Bodhi's organic dog paw balm won the 2020 Family Choice Awards thanks to its incredible mixture of 100 percent USDA-certified organic shea butter, jojoba oil, beeswax, hemp seed oil and candela extract that relieves sore paw pads while restoring them to their soft and pliable state, making walking so much more enjoyable for your pup. "My dog has a very short coat and goes on runs with me every day. I walked in on him recently chewing on his foot pads, and found his feet extremely scaly and irritated," one pet parent wrote. "I ordered this two days ago and after ONE application, his pads were dramatically softer!"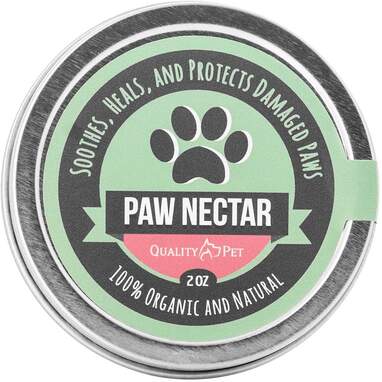 Chapped paws will be a thing of the past when you apply Paw Nectar's dog paw balm to your dog's pads. "I purchased Paw Nectar immediately when I read 'pain relief' in the description and I prefer organic/natural products all around," one of the over 1,200 five-star reviewers wrote. "I massaged a liberal amount on her pads per instructions and Xena stopped licking the pads. The pads are shrinking to normal size and hair between the pads is growing again."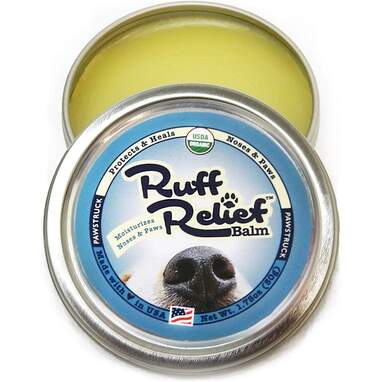 The Pawstruck organic nose and wax balm works to relieve both dry and cracked paws and noses with a simple list of natural, organic ingredients, including extra virgin olive oil, coconut oil, beeswax, jojoba oil and vitamin E. "This product is phenomenal!!!" one pet parent wrote. "I have two 15-year-old rescues, [and] both had rough, dry noses and some mobility problems. I applied this to their noses and paw pads and they both have cold, wet noses again, and can get up from lying on slick floors without slipping and sliding. Best pet product EVER!"
Vets Preferred's pad protection balm builds up a breathable barrier using essential oils, like carrot seed, patchouli, sweet marjoram, sweet almond and niaouli. "This stuff is amazing!" one five-star reviewer wrote. "After applying this to her paws a couple times a week, her paws went from dry and cracked to soft and healthy."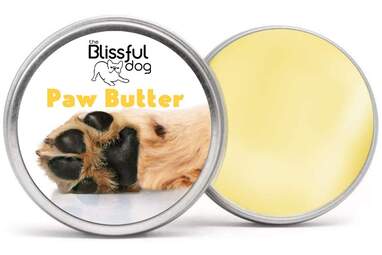 "I came across this product and decided to give it a shot since it specifically mentioned hyperkeratosis," one parent of a senior dog wrote about The Blissful Dog's paw butter. "It seems to have made a difference in a short period of time!" This balm, which contains shea butter, cocoa seed butter, pumpkin seed oil, comfrey oil and "love," according to the ingredient list, will absorb quickly into dry pads, making the urge to lick it off a non-issue.
Your pup's paws won't be the only things nourished by the Pet MD dog paw balm — this stuff also works great for dry noses and cracked elbows, too. It's made with safe, all-natural ingredients that are OK if licked, and can be used up to two to three times a day. Over 700 pet parents love this balm and say their dogs are no longer itching and chewing at their irritated pads.
These Pet Parent-Favorite Healing Balms Will Save Your Dog's Paws